Stop By

Find us in Williams 329

Contact Us

Mailing Address

Latin American and Latino/a Studies
Illinois State University

Campus Box 4180
Normal, IL 61790-4180
Message from the Program Director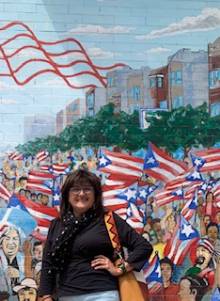 Today, the field of Latino Studies is a bourgeoning area of research and study as evidence by the volume of the research it produces across the humanities and the social sciences.
ISU's Latin American and Latino Studies program has been in existence in our course catalog since the 1970's, but it was not until the first decades of the twenty-first century that institutional efforts were in place to secure its current structure. I assumed the role of director in 2006, but we didn't have any dedicated office space until 2012.
Ten years ago, we moved into our current office suites, Williams Hall, 329 and we have built a home for the program. Evidence of the role we have played in the educational mission and vision of the university can be seen in the walls of our office: over ten years of programming that included scholars, artists, poets, actors/actresses that have visited campus on behalf of the program to share their knowledge and work with us.
Thus, I want to welcome you to explore the pages of our website and learn about the new course offerings, opportunities to study abroad, and community efforts in Bloomington-Normal and beyond. This is an important moment for you to consider adding Latin American and Latino Studies to your academic preparation at ISU. We offer many student testimonials throughout our website of the benefits of the program both intellectually and personally.
We are an interdisciplinary program that draws faculty from every college in the University. Our faculty are excellent teachers, award-winning scholars doing cutting edge research in the field of Latino Studies and their respective disciplines. Our mission is to complement your major area of study by offering you the opportunity to study and reflect about the issues facing Latina/o/x communities in the U.S., among other topics.
I would like to encourage you to enroll in one of our courses, become a LALS minor, and join some of programs and events. In 2022, we have an amazing line-up of events organized for our campus community. Do not hesitate to contact us if you have any questions. Nuestras puertas siempre estan abiertas para ti!
Saludos,
Maura Toro-Morn, Ph.D.
Director of Latin American and Latino Studies, College of Arts and Sciences